Vietnam is an exciting country to visit. The people are friendly and inquisitive (especially in the south) the food is packed with flavour and there are some beautiful natural sights to be found. Food is very affordable, even in restaurants and decent accommodation is cheap. Although it can be said that travelling independently in Vietnam requires stamina and a sense of humour, the locals are always willing to laugh along with you.
[pinit]
Weather.
The temperature is hot, everywhere except in the highlands, with Hanoi dropping to 17 degrees during winter.  By highlands I mean the central highlands (Dalat) and the northern highlands bordering China (Sapa). It snowed in Sapa two weeks before we arrived in April and it was cold. Bring a not too heavy fleece and rain jacket if visiting the highlands. If you intend trekking Fansipan, the highest mountain in Vietnam at 3,143 metres, that is a whole different kettle of fish. Fansipan is located 9 km southwest of Sa Pa Township and your trekking company would offer advice on those requirements.
Transport Itinerary. 
At 1650km, Vietnam is a long narrow country and is usually visited vertically, North to South or the reverse.
Arrive in Hanoi.
Hanoi west to Sapa – overnight train.
Sapa to Hanoi – overnight train.
Hanoi east to Cat Ba Island in Lan Ha Bay by bus/boat/bus.
Cat Ba Island to Ninh Binh by bus/boat/bus (alternatively return to Hanoi from Cat Ba Island)
Daytrips around Ninh Binh by taxi and mini bus, or from Hanoi.
Ninh Binh to Danang (for Hoi An) by train.
Danang to Nha Trang by Vietnam Airlines.
Nha trang to Saigon (HCMC) by Vietnam Airlines.
Overnight buses are the cheapest form of transport but roads are chaotic making it difficult to relax, let alone sleep on a long distance bus.
With the exception of the private trains on the Sapa run, Vietnamese trains are not luxurious but a soft sleeper (4 berth cabin) is adequate, with room to move about and no traffic problems. You can find out more about train travel here.
We were very happy with our Vietnam Airlines flights. The planes were new and service efficient.
We recommend train and plane for long distance travel in Vietnam.
Itinerary of things to see and do.
3 days Hanoi – Adjust to Culture and traffic, Drink Bia Hoi on footpaths, try Vietnamese Coffee, familiarize yourself with the Old Quarter (Lonely Planet walk), visit temples, visit Uncle Ho in his mausoleum, West Lake, Cultural Museum, Water Puppets, Early morning and evening walks around Hoan Kiem lake.
Streets of Hanoi.
Bia Hoi is fresh beer, served from a keg and consumed on kid sized plastic chairs on the footpath.
Bia Hoi Corner Hanoi.
3 days Sapa/Bac Ha – Ethnic minority hill tribes, Trekking, Bac Ha Markets.
Rice Terraces, Sapa.
Sapa in the mist. Read more about it here.
Sapa was established by the French in 1922, high in the mountains of North-West Vietnam, near the Chinese Border. Thick mists roll over the town, often obscuring views of the iconic rice terraces. Sapa is a well known trekking base for the valleys.
1 day Bac Ha Sunday market. Stay Saturday night at Bac Ha for an early market start, or arrive by mini bus from Sapa Sunday morning. The colourful dresses belong to the Flower Hmong ethnic minority group. Bac Ha is the largest such market in north-west Vietnam and is very much a locals market. Expect water buffalo, horses, rice whisky and everything a hill tribe person needs to survive to be on sale, plus some tourist orientated woven handbags, tablecloths etc.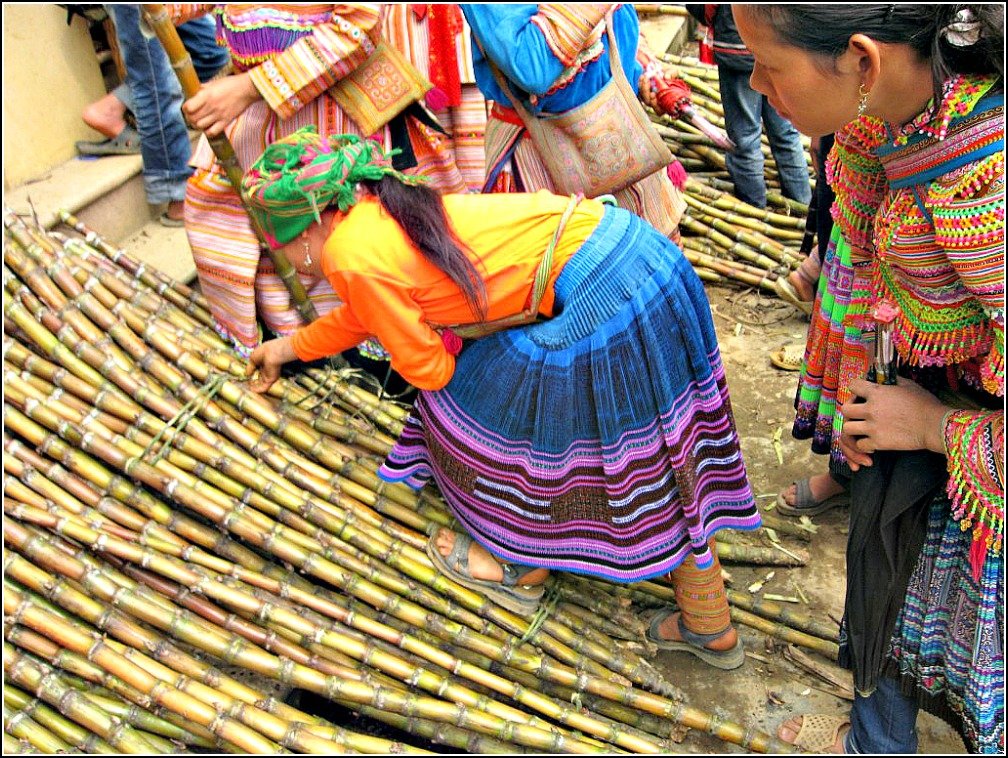 2 Days Hanoi – we decided to stay another couple of days in Hanoi before leaving for Cat Ba Island.
3 days Halong Bay or 3 days Lan Ha Bay/Cat Ba Island – magnificent Karst Islands, Boat Day Trip from Cat Ba Island into Lan Ha Bay, view Fishing Villages, Kayak, Rock Climb. We recommend visiting Lan Ha Bay instead of Halong Bay – read all about that here.
Karst Islands, Lan Ha Bay (south of Halong Bay).
3 days Ninh Binh – Ninh Binh is an everyday working city whose vibe was clouded by dust from the local cement factory back in 2011. Although the city lacked tourist infrastructure for westerners, the surrounding countryside held many delights. Trang An, Tam Coc and Thung Nang are all watery landscapes with karst hills reminiscent of Halong and Lan Ha Bay, only on land. Boatmen/women row small punts with either their feet or hands taking up to six paying customers along for the ride. Nearby is Bich Dong Pagoda, a series of three pagodas the highest of which offers great views. Kenh ga fishing village on the Hoang Long River is set in a similar karst landscape with motorised boat trips. Some of these attractions could be covered on a tour from Hanoi.
Being three hours from Hanoi, Cuc Phuong National Park is probably best accessed from Ninh Binh. Although public buses will drop off at the park entrance, the main attractions are 20 km within the gates. Those with motorbikes or vehicles can go it alone, hiring guides from the park if required.
School's Out Ninh Binh.
Trang An Cave boat.
Cuc Phuong National Park offers rainforest walks, small prehistoric caves (bring a torch) and this primate rescue centre.
You can read about Kengha Fishing Village here.
3 days Hoi An – Foodie Destination, Cooking lessons, old buildings undamaged in Vietnam (American) war, a fun and informative Heaven and Earth Bike Tour, Full Moon Candle Floating Ceremony, Hoi An beach, Danang, and a half day trip to ruined Hindu temples at My Son.
My Son Hindu temple ruin complex from Hoi An.
Add a 1 or 2 day visit to Hue from Hoi An. Hue (Hway) was Vietnam's capital 1802-1945. It was invaded by the Japanese 1940 to 1945 and afterward the capital was moved south. Unfortunately it sustained a lot of damage in the Vietnam (American) war but does have a large Citadel with moat. River trips are popular and trips can be made to the nearby Demilitarised Zone. Read about food Hue is known for here.
3 days Nha Trang –  Nha Trang is an enjoyable beach destination which we explored by bicycle. It is the departure point for boat trips and the chair lift to nearby Vin Pearl Island. It has good sandy beaches, Gallery of renowned photographer Long Thanh, a huge White Buddha, Po Nagar Hindu Temples and good bars and restaurants.
Add a 2 day visit to Dalat from Nha Trang. We intended visiting this once French highland town, known for it's eternal spring weather and pine fringed lakes and hills, but the weather closed in and we chose Nha Trang. I suggest visiting both, time and weather permitting.
4 days Saigon – visit temples, eat at a different restaurant every night, eat street food, visit markets, side trip to cu chi tunnels, Mekong Delta day trip or longer or Phu Quoc island.
Mekong Delta.
Return to Saigon for a day before departure.
What westerners refer to as the Vietnam War, is referred to as the American war by locals. As a tourist, the war is never far from the agenda and there are many war sites that can be visited. Even though there are too many sad reminders of the past, Vietnam's focus is firmly on the future. You can visit the War Remnants Museum in Saigon (HCMC) for a totally different view of the Vietnam or American War.
We spent 30 days in Vietnam in 2011. This Itinerary is flexible, just drop days and towns to make it right for you if your time is shorter, or spend more time in the places you really enjoy if you've time to spare. We booked ahead for some accommodation and left others till our plans were solid. When booking on-line we used Agoda, at other times we rang direct. If your choice is showing no vacancies on line, do ring in person or get the reception at your current lodging to ring on your behalf – the answer is quite often different.
Budget Travel Tips.
Day trips and transport can be booked after arrival. Even the smallest hotels willingly make bookings (including train tickets), at little or no additional cost.
When we were preparing to leave Hoi An we discovered the only district that wasn't pouring with rain was Nha Trang so we quickly booked a flight there – it was a excellent addition.
The Mekong Delta can be visited by bus or a one day boat trip from Saigon. Of these two the boat is the best and most expensive option. Spending a few days in the delta area independently would be my choice next time. The floating markets in the delta are held early morning and are finished by the time a day trip from Saigon arrives.
We spent quite a few days more in Ninh Binh than anticipated due to illness. There is a lot to see in the area but keep in mind that it can be accessed via day trips from Hanoi.
I reviewed a book a while back about Vietnam which would be a handy read before arrival (recommended).
Thanks for reading and commenting – we really appreciate it. If you have a blog we would love you to add your travel post to the link below for Nancie's Travel Photo Thursday which we co-host with Ruth from Tanama Tales and Rachel from Rachel's Ruminations.