Not even on the edge really.  We took a morning walk along the banks of Ross River which disects Townsville in North Queensland Australia.  We were on the town or more established side of the river where there is a walking path and wide open space between the last row of dwellings and the wildish banks of the River.
Some places along the river are mown and landscaped right down to the water but on this walk it is more natural. Between the trees we caught glimpses of Mt. Stuart in the distance and the Rowing Club on the opposite bank of the River.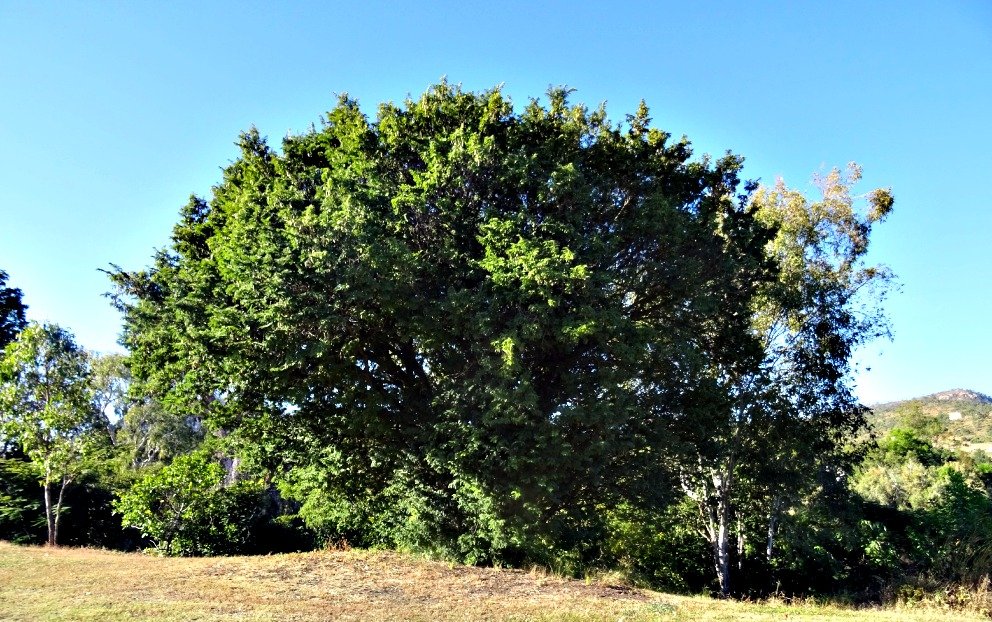 I found a tamarind tree and went for a closer inspection.  I cook Asian Food when I am at home and buy tamarind paste in a bottle.  I know I could make it from the real thing, but they are so high up and my pleas to my husband to think of a way to pick them fell on deaf ears.
Further along there was an abandoned mini orchard of mango trees.  I am an avid mango eater so I will be keeping my eyes on these as the season progresses.  At the moment we are experiencing what we call the mango winds which come in August and blow the flowers from the trees, but prior to Christmas we will be eating them by the bucketful (I hope).
And then we found the biggest surprise of all.  Kangaroos, or are they Wallabies?  I came across them laying down, but as soon as they spied me they became alert.  It is not normal to find them in the suburbs.  I assume they came from the other, less populated side of the river… but did they swim across or hop across the bridge during the night.  I have lived in Australia most of my life and I have never seen a kangaroo hop across a bridge.
Have you found nature in Suburbia?
This post if linked to Keryn's Friday Postcards over at Walking on Travels which has nature in the spotlight this week.