This Cambodia Itinerary provides for a fairly relaxed three weeks in Cambodia, but if you only have two weeks in Cambodia it can easily be adapted to suit.
Before deciding to visit this intriguing country, it is important to learn some sad facts from the past.
What You Will Find in This Post
Cambodian Culture
Pol Pot Regime
Cambodian Culture took a hit back in 1975 under the Pol Pot Regime, when 4 million out of 8 million Cambodians were killed, starved to death or died of disease in a 44 month period. A lot of those executed were educated citizens from Phnom Penh, who paid for their education with their lives. The capital of Phnom Penh became a ghost city and too many children became overnight orphans.
Unsurprisingly perhaps more than half the population today is aged under 15 years old. The older generation (those over 50 years old) are very scarce indeed.
Visual Arts
Visual Arts declined in the 20th Century, one of main reasons being the fact that so many visual artists were executed.
Pinpeat, Modern Music and Dance
The emerging music scene suffered a similar fate with the death of popular singers Sinn Sisamouth (Frank Sinatra style) and Ros Serey Sothea (Janis Joplin style).  Sinn requested to sing one last song for his persecutors, after which he was shot and Ros wasn't seen again after the fall of Phnom Penh.
The unique sound of a Cambodian Pinpeat Orchestra – a mix of nine or ten wind instruments – can however still be heard today accompanying traditional dances and religious ceremonies in temples.
Pinpeat is the sound of Cambodia.
Experience Cambodian Music and Dance in Phnom Penh. See Khmer, Classical dances and music in the garden of the National Museum. Run by Cambodian Living Arts, an organisation working for the last 20 years to support the arts sector in Cambodia.
Religion in Cambodia
97% of Cambodians belong to the Khmer South-East Asian ethnic group and speak Khmer. Their culture is a mix of Buddhist, Hindu and Animist religious beliefs.
Buddha Flowers
These flowers are commonly found on streets and in temples in Cambodia.  We found their strong waxy leaves and intricate stamen so fascinating that we asked our hotel receptionist about them and she called them Buddha flowers.
Because the monks give them to Buddha.
Three or Two week Cambodia Itinerary.
Phnom Penh.
6 Days
We dedicated four days straight up to Phnom Penh, discovering the origins of the Cambodian Capital at WAT PHNOM and embracing Tuk Tuk transport for the first time. It was a comforting feeling knowing we would return at the end of our trip.
Things to do in Phnom Penh
Wat Phnom – the origins of Phnom Penh
Sisowath Quay, the vibrant riverside road and promenade on the western bank of the Tonle Sap River.Very much a local's hangout the wide paved areas of the Quay are perfect for those enthusiastic exercise classes and high spirited football games. Mobile Food vendors are kept busy and there is a steady flow of travellers and expats. Sitting, watching or being seen, on foot or on motorbike, a daily visit to Sisowath Quay and the riverbank is mandatory.
Visit one or more markets – Russian Market or  Central Market
Ride in a Tuk Tuk
Eat in a restaurant supporting disadvantaged women or children, like Friends Training Restaurant and Shop or Daughters of Cambodia
Royal Palace and National Museum
The historic Foreign Correspondents Club (FCC) Sisowath Quay – Great happy hour, views and breezes
Where to eat in Phnom Penh
We had a lovely breakfast at Alibi Guesthouse each morning and as we were near Sisowath Quay we mostly ate in that area. All the places we tried were good.
Khmer Saravan does a great Fish Amok. Try the little upstairs balcony. Leave a message on the walls.
The Foregin Correspondents Club is the place for stiff drinks and nibbles and as it turns out is a great vantage point for Independence Day fireworks.
Special Pho (previously Lucky Pho) is the cheap and delicious Vietnamese noodle place at 11 Preah Ang Makhak Vann St. just around the corner from FCC, or the F as locals say. Love this place.
Pelican Food Company. Look no further if you're an Aussie who has been travelling for a while, hankering after a meat pie or sausage roll. Both can be found in the slower paced leafy streets of BKK – the expat district.
Friends Training Restaurant. Training Street Kids. Beautiful food.
Daughters. Trains and supports women. Empowering those trapped in the sex industry. A worthy cause.
Where to stay in Phnom Penh
We always pre-book our first day's accommodation. We use Booking.com as a booking agent but also Agoda when we are in Asia. They both are reputable agencies.
It goes without saying that we fastidiously read the verified reviews from guests who have actually stayed at the property before booking!
We pre-booked our room at Alibi Guesthouse, a beautiful old villa of only ten rooms, hidden away down an alley near the Royal Palace.
This affordable guesthouse is in a great position close to Sisowath Quay, is spotlessly clean and gloriously calm – and calmness is a precious commodity in Phnom Penh.
By the way, all Cambodians love kids and at Alibi the staff will very happily entertain your baby.
CLICK ON THE PHOTO FOR ALIBI GUESTHOUSE.
To walk along Sisowath Quay is to take a one-day tour of Phnom Penh  Wikitravel
Siem Reap
4 days
What to do in Siem Reap?
Of course this is a no-brainer. Visit Angkor Wat and other temple complexes.
Siem Reap's, or I should say Angkor Wat's reputation is so monumental that many travellers fly directly into and out of Siem Reap, seeing nothing more of Cambodia. Although I had researched Angkor Wat before arrival, it was only after we started taking day trips from Siem Reap ourselves, that I truly understood the logistics of it all.
How Long to Stay in Siem Reap and the logistics of Siem Reap and Angkor Wat
Angkor Wat is the biggest, best preserved and most well known of a large array of Siem Reap Temple complexes.  A few temples like Angkor Wat, Angkor Thom and Ta Phrom can be viewed in a day by Tuk Tuk. Pre Rup is a good option for a less busy sunrise and sunset. It's steep stairs are challenging, but walk around the back to find easier stairs with railing. It opens at 5 a.m. and you can take along a picnic breakfast to eat at the top.
Others require a car and day to themselves due to the distances involved and other things to see along the way. A good day out is small and beautiful Banteay Srei, the jungle temple of Beng Melea and the Roluos Group or mix it up a little with a visit to the Tonle Sap water village on the way home. Beng Melea is a great adventure, especially if it rains like it did during our visit, when we got to wade through a creek and hide in the ruins (bring a torch).
We actually did a separate Tuk Tuk trip to Roulos Group (13 km) for sunset at Wat Bakong. This Wat is uncrowded and has a monastery attached. The monks beat an atmospheric drum and chant during sunset. We arrived by Tuk Tuk, but it was too scary on the main highway with the trucks bearing down and our faces collecting insects as we went. Next time we would hire a car and driver.
At first we thought three days in Siem Reap would be sufficient, but settled on four days. This allows for three days Siem Reap temple viewing with a day off between the second and third to avoid Temple Overload – and believe me there is such a thing.
Where to stay in Siem Reap.
The Guesthouse we chose wasn't up to par during our stay, so instead I've researched Siem Reap accommodation and found three excellent alternatives. Remember to check reviews prior to booking.
Ladear Angkor Boutique – 9.1 approval rating – Wat Bo area – 1.2km from town centre
Lub d Cambodia Siem Reap – 9.4 approval rating – Siem Reap – 900 m from town centre
The Amazing Residence – 9.2 approval rating – Siem Reap – 1 km from town centre
Further reading on Siem Reap.
Angkor Wat is Heaven on Earth.
Kampong Phluk Fishing Village from Siem Reap.
Battambang
3 days
Arriving in Battambang
Disembarking the bus in Battambang was daunting. On arrival the bus door was surrounded by a frantic mob of Tuk Tuk drivers all intent on being our driver. We had prebooked a driver and Marty launched himself into the fray, located him and retrieved our bags.
After that all was smooth sailing. The Royal Hotel was the cheapest hotel in town and a decent place to stay. After a rocky start Battambang proved to be a nonchalant and relaxed town, with some interesting sights and good food.
CHECK REVIEWS AND BOOK IN THIS HANDY LINK.
After our first Tuk Tuk ride we could walk all over town without being approached by other drivers, which was very appealing.
What to do in Battambang
Battambang Circus
Ladies and Gentlemen, Boys and  Girls, Roll Up, Roll Up!
It is easy to be impressed by Phare Circus Battambang and it's Cirque Nouveau.  The gifted performers are local disadvantaged kids trained in circus, dance, music and art, at an NGO run school, helping kids and young people at risk.
Don't underestimate the professionalism of the Circus and promise you won't leave town without catching a Monday or Thursday night performance.
Arrive a little early to check out the students' artworks on display.
BOOK YOUR PHARE CIRCUS TICKETS HERE.
Nary Kitchen Restaurant and Cambodian Cooking School
Traditional Cambodian Cooking is Khmer Cooking and Nary Kitchen located near the central market, Phsa Nat, in Battambang is a great place for a relaxed and inexpensive Khmer cooking class. Whether morning or afternoon, each class includes a walking tour of the market to collect ingredients. At the end of the class, participants sit down in the attached restaurant to eat their culinary efforts. They also come away with a handy Cambodian Cooking Recipe Book of the meals prepared and more. Meals are delicious and surprisingly easy to prepare.
We cooked the legendary coconut and lemongrass inspired Cambodian Curry, Fish Amok. This curry is seriously my most favourite Cambodian dish, plus Lok Lak a quick stir fry of marinated beef. Lok Lak marinade is quite rich but is delightful when accompanied by a simple salad of sliced onion, tomato and lettuce. My Nary Kitchen cookbook is a firm favourite and I repeatedly prepare these dishes at home.
Cambodian food is tasty, healthy and very cheap.
$10 USD for 4 courses and degustation.
Where to eat in Battambang.
Choco L'Art – Think dark chocolate mousse. Pineapple and Vanilla Tart. Theme nights like Caribbean Night with Colombo Curry. Art for sale. Their Airbnb has poor reviews.
Nary Kitchen – A good place to eat Cambodian Food as well as take cooking classes.
White Rose – Good Asian food during our visit, but mixed reviews nowadays.
The River – down by the River for Sundowners with both Khmer and Western food.
Kampot
3 days
What to do in Kampot
Kampot stretches dozily beside the Praek Tuek Chhu river, with a flourish of peak hour activity with motorbikes descending on the Riverside boulevard like locusts. As the heat of the day mellows, fairy lights twinkle and happy hours spring to life at restaurants like the one at downtown hotel Rikitikitavi – a 1920's rice barn.
Initially the appeal is in the laid back atmosphere and soft yellow of the fraying French Architecture highly reminiscent of Hoi An in Vietnam. We also loved it's quirky bridge, bike rides into the country looking for salt mines, day tours to pepper farms and the intriguing nearby seaside town of Kep – try the signature pepper crab.
Kampot is a town worth exploring. There are thirst quenching fruit juices and keg beer to be had and expat delights like Canadian Banana Cream Pie.  Kampot is a happy mix of Expats, Local Entrepreneurs and travellers and my favourite Cambodia town.
Where to stay in Kampot.
We stayed at Kampot Riverside Hotel which was very clean, quiet, had riverfront views, good breakfasts and lovely cold Cambodian beers at happy hour in the afternoon. You can't ask for much more than that. It is centrally located and everywhere is within walking distance.
CLICK THE PHOTO FOR KAMPOT RIVERSIDE HOTEL.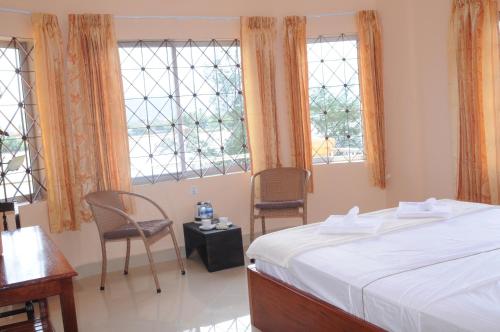 Where to eat in Kampot
Captain Chims – Budget. Cheap and Cheerful Asian Food, free Wifi, good vegetarian options. This is where we purchased our River Boat Trip tickets from.
Rikitikitavi – Medium priced. Great ambience and good food. A stayer in the Kampot scene.
Mea Culpa – Medium priced. Pizza Place in a nice quiet garden with wood fired oven in courtyard.
Kampot Pie and Icecream Palace – Medium priced. Our picks are the Lemon Meringue Pie and Chicken Curry Pies.
Further Reading.
Ten Photos of Intriguing Kampot.
In Search of the Salt Fields of Kampot.
Sihanoukville
5 days
In the days of French Indochina, Cambodia was reliant on the Mekong Delta in Vietnam as a supply route. Incredibly, it was only in the late 1950's that Sihanoukville emerged from the jungle to fill the gap.
Sihanoukville Beaches
Today as well as being Cambodia's only deep sea port, it is the busiest beach area in Cambodia.  Serendipity Beach is Sihanoukville's party zone, but a 5 USD Tuk Tuk ride will spirit you away to OTRES BEACH where you can chill all day on an umbrella-covered beach lounge for the price of a (1 USD) drink from the bar.
After hiring a Tuk Tuk for the day to take us to all the beaches of Sihanoukville, we can report that Otres II is the best. It is the cleanest, quietest, with good food and drink options.
Where to stay in Sihanoukville
We spent our days on the beach near at Otres II, however since Casinos have been built there, things have changed quite a bit.
We stayed at Orchidee in Sihanoukville which is well positioned around restaurants, is budget priced and has a large pool. Meals and drinks can be purchased from the hotel and eaten pool side.
CLICK THE PHOTO FOR ORCHIDEE HOTEL SIHANOUKVILLE
Sihanoukville Monkeys
Monkeys can be found behind the Independence Hotel in the afternoon. Locals and tourists drop by to feed them peanuts and bananas.
Sihanoukville Market
Phsar Leu market is a local market that can be reached on foot from Serendipity Beach. It's a gentle walk up into the main part of town. It is an interesting place to visit – there are tailors, clothing, Cambodian food, hairdressers – all local not touristic.
Boat Trips
Take a relaxed slow boat trip to Koh Rong Samloem or overnight trips to Koh Tang and Koh Prins. If staying at Otres, you can join the boat from there. Diving can be included.
We enjoyed our boat trip to Bamboo Island.
Further Reading.
Initially when planning the Cambodian sector of our Journey, we included the area north-east from Phnom Penh through Kampong Cham to Kratie, the dwindling population of Irrawaddy Dolphins in the Mekong and the remote Ratanakiri Province.   We sacrificed those to spend longer in the areas we did visit.
We don't regret that decision, especially as we now have reason to explore more of Cambodia.
Have you been to Cambodia and if so did you leave Unfinished Business?
[pinit]
BUDGET TRAVELERS SANDBOX.
READ MORE OF OUR CAMBODIAN POSTS.