Updated April 2018. On 25th April, 2012, we were settling into our House sitting job in Spain.  It was in a mountain village of the Andalusia district near Granada. Officially this village was home to five hundred people, although we saw only one-fifth of that number and most of those were the elderly monarchs of families whose members were spread far and wide. In this village we found Spanish Hospitality and symbols of Anzac Day.
Pin It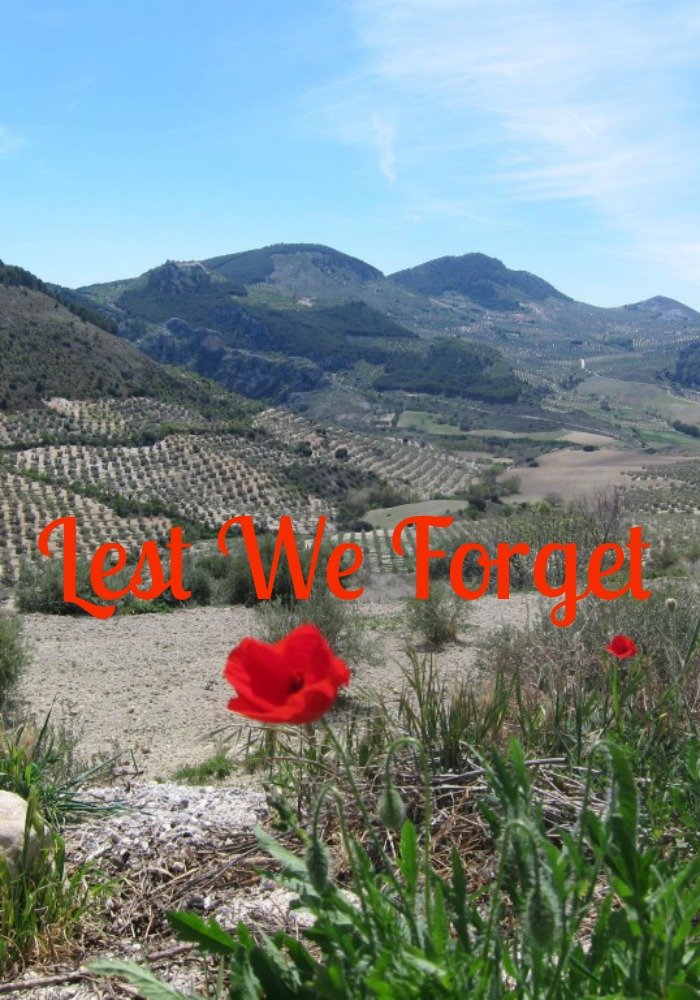 What You Will Find in This Post
25th April 2012
The day started in a flurry with our home-owners spiriting us around the district on a last minute familiarisation trip. We drank coffee in village squares, shopped at the big supermarket and were introduced to everyone at the local bar.  This kind and thoughtful couple were entrusting us with their beautiful mountain dog – a dog as robust as she was pampered. If you like you can see a photo of Lulu.
Whilst walking her on this day I met an elderly Spanish friend of the family.  Manalo was an impressive but humble artist, his rambling country property cluttered with iron sculptures.  They ranged in size from those minute enough to place on your sideboard, to imposing forms destined to adorn public spaces.
He spoke no English and we were the proud owners of five phrases of Spanish.  With typical Spanish hospitality, he presented his well used garden secateurs to me with a smile, shooing me into the garden. It was a rambling affair, with flowers juxtaposed between offerings of iron, in what was a vague reincarnation of a cottage garden.
Afterward he tut-tutted at my too small collection cutting more himself to add to the bunch.  There were stems of deep purple Iris, others cut from a large bush, and yet a different purple bloom with seemingly no English name. Our return walk through the hills was made with me clutching this bunch of purple. Amazingly they survived.
Symbols of Anzac Day
Gazing toward the rocky valley below I spied a brilliant blood-red poppy – in my mind the most poignant symbols of Anzac Day – and it hit me with a jolt.
Today was Anzac Day.
In Australia and New Zealand people would be commemorating Anzac Day with red poppies and dawn services. More Symbols flooded my mind.
Red Poppies grew from European fields after WWI. Fields where soldiers had shed their blood.
The Dawn Service is the strongest symbol of Anzac Day in Australia and New Zealand. Traditionally soldiers were awoken before dawn and took arms. Allied soldiers (ANZACS) invaded Anzac Cove on the Gallipoli peninsula of Turkey at dawn.
Flags fly at half-mast.
A spring of Rosemary tucked behind a soldier's medals on Anzac Day signifies remembrance and doubly, it grew wild on the hills of Gallipoli.
The Slouch Hat worn by Australian Soldiers since the 1890's, is a khaki coloured felt hat folded up on one side and secured by an army badge.
The Anzac Biscuit was a hard biscuit made from rolled oats and flour, used by soldiers in lieu of bread. It was notoriously rock hard. Still eaten today in Australia, it now has a more pliable consistency.
Two Up is a game of chance traditionally played by soldiers and allowed in pubs and clubs throughout Australia on Anzac Day.
My personal memorial to Australian and New Zealand diggers on this Anzac Day.
Poppies are my favourite symbol of Anzac Day.
Inherently cheerful flowers, they nod away in the slightest of breeze, struggling up from barren soil.
Inevitably they remind of our lost soldiers, many of them just boys.
Not only Allied Soldiers lost their lives. Wars don't discriminate.
You can read more about our visit to the Gallipoli Peninsula in Turkey where a protracted WWII battle took place here.
Lest We Forget.